Visit Tracker will automatically send your guardians a reminder about upcoming visits.
You will first need to enable the Email Verification feature. To email from Visit Tracker, the guardian does need to "verify" their email address with us.

You can learn more about Email Verification HERE
The Admin can turn on the email verification feature under Set Up --> Family/Child Data
Open the "Family/Guardian Data Fields" menu and click to "show" the Email Verification.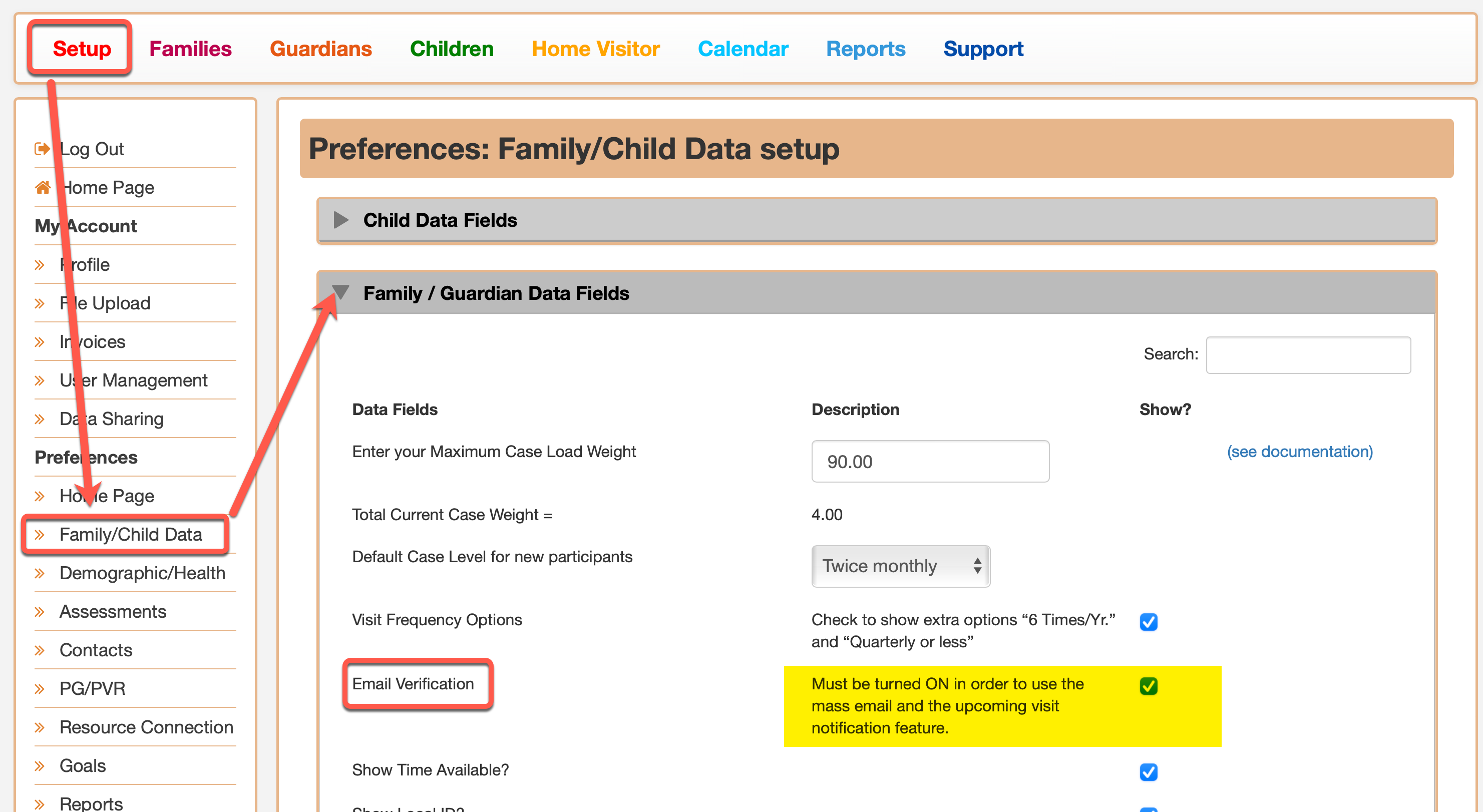 Once the Email Verification is turned on, you can then turn on the Email Notification for Upcoming Visits.
Go to Set Up --> Contacts
Open the "Preferences: Contacts" menu and click to "show" to Notify Guardians.
Once the Verification has been enabled, and the guardians have verified their emails, you can then set up the automatic email reminder.
When you add a new Private Contact (email notification is ONLY for private contacts), the option will now show to "Notify Guardians of Upcoming Visit". If you click "Yes", a new dropdown will open to ask how many days prior to the visit do you want to send the email. You will have the option of 0-7 days prior to the visit. 0 would be the day of the visit. You can also select to send the email to you as a cc.
*Note - If your visit is scheduled for the next day, the notification will need to be set to 0 days.
The email notification will be sent around 4:30 am CST on the notification date.
Here is a copy of the email that will be send:
Dear [guardian name],
[home visitor] from [program name] wants to remind you of your upcoming home visit on [2022-3-22 at 1:00 pm]
Thank you,
VisitTracker on behalf of [home visitor] / [home visitor email] / [program name]
(All elements between [ ] will be replaced for the real information)
An email contact will also be automatically added to the Family contact history. In the notes: "Automatic email notification for upcoming home visit dated [2022-03-22 1:00PM]".
Things to keep in mind:
Please check that your email is correct. You can update your email from the Home Visitor tab.
Check that the Program Name is correct. The main admin can check the program name under Set Up --> Profile
Even though guardians have verified their email, our emails to them may still end up in junk. Have Guardians add Visit Tracker as a trusted email.